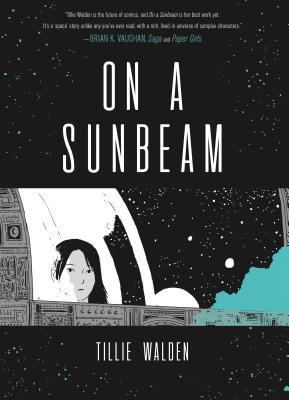 On a Sunbeam
by Tillie Walden
First Second, 2018. 533 pgs. Young Adult Graphic Novel.
Mia is a new member of a team that travels through space repairing broken-down structures. As she gets to know the other members of her team, she opens up about her time at a boarding school and the girl she fell in love with while there.
The art throughout this book is amazing. The artist chose to only use colors in blue and red hues and I feel like that helps to bring the reader into an outer space type of atmosphere. One thing that is difficult is that the world isn't explained super well. It appears that this world (universe?) is entirely populated by women, but that's not necessarily immediately apparent. I did enjoy the slight whimsical touches that the author included throughout; like that their ships were all shaped like fish and basically every part of The Staircase. I would recommend this book to readers who are looking for a more diverse graphic novel or those who have already read and enjoyed other books by this author.
AU