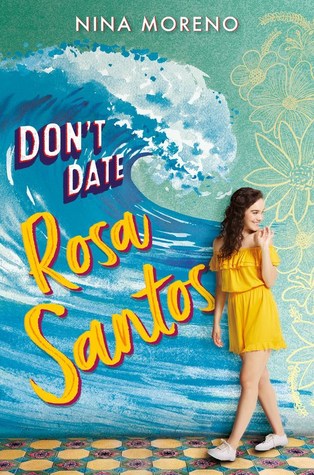 Don't Date Rosa Santos
by Nina Moreno
Disney-Hyperion, 2019. 336 pgs. Young Adult.
Rosa Santos has always known about her family's curse. Her grandfather died as he and her grandmother fled Cuba. Her father died shortly after her mother found out she was pregnant with Rosa. Both men were taken by the sea. When Alex Aquino comes back to town, Rosa knows she should stay away from him (especially because he owns a boat). Unfortunately, that's easier said than done.
This book hit especially close to home for me as Rosa's abuela, Mimi, reminded me a lot of my own grandmother. I thought the author did a great job of portraying what it's like to live in a bilingual household. Rosa was a really enjoyable main character because she had a lot of confidence while still being vulnerable at times. I liked the dynamic between Rosa, her mother, and her grandmother and felt that the emotions throughout the book were really authentic. I would recommend this book as a great summer read for anyone who wants a small taste of Cuban Florida.
AU